I love literary lists. Each year I pick up one book authored by the Noble Prize in Literature; this year was the ever-confounding Kazuo Ishiguro. I sit anxiously waiting for the Man Booker Prize shortlist (though the long list actually has better writing sometimes); this year the weirdly contemplative Lincoln in the Bardo by George Saunders won. I become feverish and irrational as the Scotia Giller Prize lists are published; 2017winner was Bellevue Square by Michael
Redhill. I read and rooted for Son of a Trickster by Eden Robinson and had a brief disappointing affair with Ed O'Loughlin's Minds of Winter.
Canada Reads, however, has never quite been my cup of tea, being too much a survivalist themed-show with a time range of books that brought back memories of English Lit in university. Unlike the other literary prizes, Canada Reads is made up of debators who trash out their support of the book they have been chosen to read, eventually voting a book a week off the stacks until the surviving one goes on to fame and glory. When this year's list was announced, I was attracted to Cheri Demaline's The Marrow Thieves and, tentatively, Mark Sakamoto's Forgiveness. Perhaps it was the influence of the Giller's shortlisted Eden Robinson's amazing, searing Young Adult story of an Indigenous youth and his peripatetic spirit quest, all the while managing a family drama that is too real to shut out. I chose Demaline's book, putting Forgiveness on the shelf. (Yes, there is irony in that.)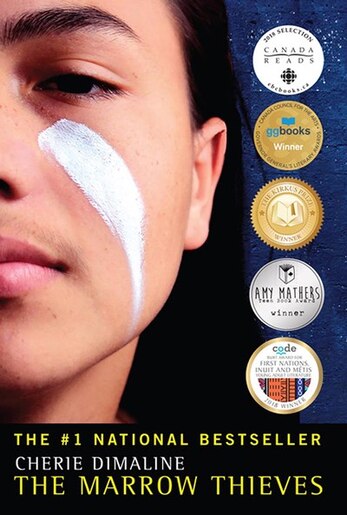 As with Robinson's book, the Marrow Thieves is riveting and gut-wrenching YA, tearing open into full view the psychological survival of Indigenous Peoples in a dystopic future. There, survivors of a climate catastrophe, hunt the Indigenous Peoples for the key they hold to survival. It's worth the read.
But it's not what I want to write about today.
A reluctant reader of Sakamoto's memoir, Forgiveness: A gift from my grandparents, I confess I feared the theme of Asian oppression that occurred in Canada as a reaction to the Japanese bombing of Pearl Harbour. I'd also read Richard Flanagan's The Narrow Road to the Deep North, a powerful story of Australian POWs forced into building the Thai-Burma Death Railway; the book effectively ruined my summer – or was it winter? But then, fear is a seductive creature, drawing us ever closer to the very thing we seek to avoid.
Sakamoto's book is a tragedy in three parts: his Japanese grandparents, born in Canada and the target of Canadian bigotry; his East Coast grandfather, escaping a brutal home life only to become a POW in Japanese-held Hong Kong and later sent to a shipbuilding factory in Osaka, Japan; and, Sakamoto's writing, filled with grammatical and historical errors, that almost derails the early history of his two lineages.
The richness of the two sets of grandparents, their own parents and children (Sakamoto's parents) is mostly lost as is the opportunity to capitalize on an important theme of hope and belonging, betrayal and resilience. Sakamoto's Japanese great-grandparents came to Canada's West Coast and became a fishing family among many other Japanese. As we so well know from centuries of history, nothing turns one part of a community against another faster than the success of one and not both. Colour of skin, accents, and other external features become the target of ridicule and bullying. Eventually, governments step in with shoddily clad legislation that sanctions prejudice. In 1941, after Japan's entry into WW II, the government claimed "military necessity" and Japanese Canadians were shipped to the interior of British Columbia, Ontario, and the beet farms of Alberta¹. In all, 21, 000 were displaced and never compensated for lost homes, businesses, and emotional wounds of disbanding families. The timeline here shows redress occurred in 1988 but did not include compensation for loss of property and hardship.
Sakamoto's grandparents survived by agreeing to go to a beet farm in Alberta so that they could stay together as a family, only to discover that life on the open prairie during the fierce winter in an un-insulated animal shed will challenge them in ways they could not have imagined. For his grandmother, Mitsue Sakamoto, caring for her parents and children becomes the source of her resilience. Her son, whose woundedness is not made clear, is Sakamoto's father (the book could use a genealogy!).
Across the country on the East Coast, Sakamoto's Canadian grandfather, Ralph MacLean, lives on The Magadelan Islands in the Gulf of St. Lawrence. As Sakamoto narrates it, his grandfather's story edges on cliché despite the very real likelihood of his unforgiving, brutal parental environment in an unforgiving land. So much could have been done with this, however, it distils down to a physically and emotionally abused child with a heart of gold who eventually survives his own internment by the Japanese military in Asia. His daughter, wounded as well, is Sakamoto's mother. The painful irony of his parents bringing together two victims of oppression is unexplored other than a nod to a mysterious process of forgiveness.
Against a painful and powerful background such as this, Sakamoto had ample material to weave a rich narrative. However, the rushed sketches of these characters, who were so critical to the later narrative that intertwines to shape the author's own life are frustratingly sparse and staccato. I want to know more about Sakamoto's father beyond his self-involved tendency to move from dream to dream. Then again, is it self-involvement or a desperate need to repossess what was lost? How did his mother become who she became, besides the usual "falling in with the wrong crowd"? Ironically, the chapters about his parents are read better, yet the characters all stand unavailable, still caught in their psychological internment.
The final tragedy of Forgiveness is captured by Goodreads reviewer, Edward Fenner's whose comments save me writing out the frustrations of reading a book that is poorly edited and sloppy in its fact-checking. It doesn't take much to validate geographical locations – there is only one ferry from the Magdalen Islands and it goes to PEI. It crosses a "strait", not a"straight".  The first sections of the book had a sense of notes taken in conversation with his grandparents. The latter sections about his parents and his own life were better written and, I am guessing, might have been the manuscript he was to send to the Globe and Mail for publication, from whence someone thought it would make a great book (it would have). Certainly, the language and style of the early years describing his family seem akin to parents or grandparents telling grandchildren about their life experiences. How Forgiveness won the Canada Reads debate is perplexing. However, one can hope Sakamoto will use this revival of his book to consider his family's stories again because we only die when we are forgotten. Somehow, I think that would be the gift from his grandparents.
As an immigrant generation, we are losing our history. When my parents passed away, they left a gaping historical hole in our family, much like the missing photographs in their albums. In my mother's later confused years, she had taken out the photos of my brother and placed them in a separate album – supposedly because I would not be interested in seeing his life in grainy black and white snapshots. So, I have albums comprised in part of grainy snapshots of my life in Burma and in part of blank spaces of black. My lineage skips across these spaces and my now-troublingly poor memory tries to backfill the emptiness. I suppose I should be happy because the memories that fill the spaces are likely less triggering than the ones in the lost photos!
It's a shame Sakamoto didn't do a greater justice by taking the time to produce the powerful story it would have been if only to show that his grandparents' ability to forgive was not about the individual. It was a clarity that the world is good, evil, neither, and both. It was a realization that we can encourage our stories to blind and bind us or shed light on another way to honour our narrative – ones that are already hidden in the folds of the stories we tell ourselves.